A recent report from Public Citizen's Global Trade Watch alleges that trade policies during the North American Free Trade Agreement (NAFTA) and World Trade Organization (WTO) era of "hyperglobalization" have inflicted disproportionate damage on U.S. Black and Hispanic workers.[1] Another new report from House of Representatives Ways and Means Committee Democrats claims: "For the last 50 years, the U.S. has pursued a policy of aggressive trade liberalization and experienced a painful decline in manufacturing…. The loss in manufacturing jobs disproportionately impacted Black workers in a multitude of ways."[2] Those are serious allegations.
Since 1994, when NAFTA took effect and one year before the WTO was created, average world tariffs have fallen by nearly 70 percent.[3]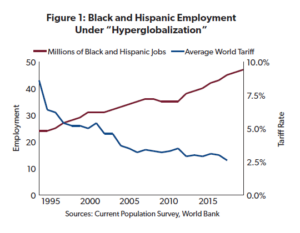 However, from 1994 to 2019 the United States also added 36.8 million new jobs. More than half of these new jobs were filled by Black and Hispanic workers, including nearly 18 million net new jobs for Hispanic Americans and 7.2 million net new jobs for Black workers.[4] 
From 1994 to 2019, average real hourly earnings for Hispanic workers increased by 25.2 percent as average real hourly earnings for Black workers increased by 17.5 percent. The earnings gap between these two minority groups and White workers was smaller in 2019 than it was in 1994.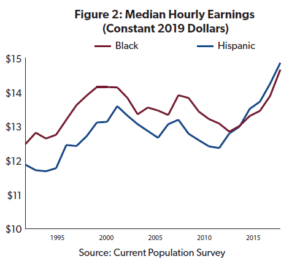 In contrast to suggestions that U.S. manufacturing has declined due to imports and outsourcing, real manufacturing output actually increased by 55 percent from 1997 to 2019.[6] Before the pandemic, U.S. manufacturing layoffs had been declining ever since 2001, the first year for which layoff statistics are available.[7] 
Manufacturing job losses were overwhelmingly driven by technology, the opportunity for workers to move up to better jobs, and increases in the productivity of manufacturing workers, not by trade.[8] For example, the average manufacturing worker's productivity doubled from 1990 to 2019, meaning fewer workers could produce more goods.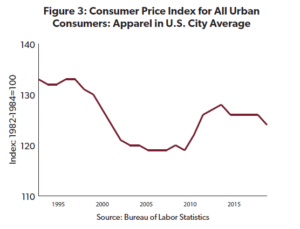 Even so, the trend toward lower manufacturing employment reversed course in 2010. From 2010 to 2019 the United States added nearly 1.4 million new manufacturing jobs.[10] 
In addition to helping create millions of new, higher-paying jobs during the NAFTA/WTO era, international trade has reduced the cost of living for American workers and their families. For example, clothing is more affordable now than it was in 1994, after adjusting for inflation and quality factors, a change that benefits nearly all Americans.[11] The same goes for telephones, TVs, toys, and many other goods.
U.S. import taxes are regressive, meaning they disproportionately damage people with low incomes. A 2017 analysis by three former Obama administration economists, including the former Chairman of the Council of Economic Advisers, concluded: "Tariffs – taxes on imported goods – likely impose a heavier burden on lower-income households, as these households generally spend more on traded goods as a share of expenditure/income and because of the higher level of tariffs placed on some key consumer goods."[12] Therefore reducing import tariffs is a progressive tax cut, with more benefits flowing to workers who earn less.
The record is clear: Trade has helped Black and Hispanic workers, who, not coincidentally, enthusiastically support trade. According to a 2017 Pew Research Center survey, large majorities of Black and Hispanic Americans think free trade agreements have been a good thing for the United States. Both groups were more likely to say that their financial situation has been helped by free trade agreements than hurt by them.[13]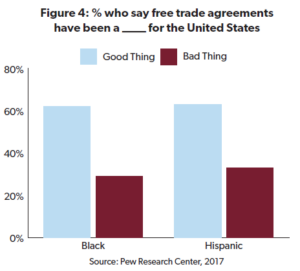 The incoming Biden administration should strive to build on the benefits Americans have enjoyed as a result of declining global trade barriers. Specifically, the United States should do more to help Americans of all backgrounds by reducing import taxes on shoes, clothing, and other products that families need, while also cutting tariffs on imported inputs used by manufacturing workers to compete in the global marketplace.
To view the original brief, please click here
Do-Black-and-Hispanic-Workers-Benefit-from-Trade-1-

---