Via communications sent out to the WTO membership on Tuesday, February 9, 2021, there will be a special General Council meeting next Monday, February 15, to consider the recommendation by the Chairman of the General Council, Amb. David Walker (NZ) that Members appoint Dr. Ngozi Okonjo-Iweala as Director-General of the WTO. the notices follow the withdrawal of the South Korean candidate, Trade Minister Yoo Myung-hee last Friday and the press release from the United States Trade Representative's Office last Friday that the U.S. strongly supported the candidacy of Dr. Okonjo-Iweala. As other Members appeared to be on board with a consensus behind Dr. Okonjo-Iweala following the third round of consultations last October, movement by the Republic of Korea and the United States were the remaining steps for the Chairman of the General Council to be able to move forward with making his recommendation (supported by his facilitators) to the membership in a special General Council meeting. It is believed that Amb. Walker has been doing outreach to other Members since those announcements to confirm consensus and address any other issues relevant to the appointment of the next Director-General. So after the General-Council meeting next Monday, the WTO should finally have a new Director-General. The four Deputies Director-General have been jointly carrying on since the last Director-General departed at the end of August last year.
The two documents sent out today are embedded below.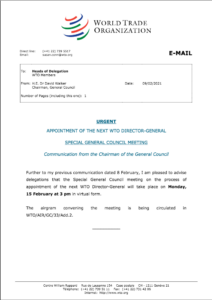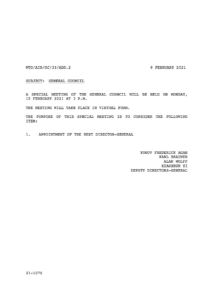 Terence Stewart, former Managing Partner, Law Offices of Stewart and Stewart, and author of the blog, Current Thoughts on Trade.
To view the original blog post, please click here.