On December 9, 2021, WITA and the Asia Society Policy Institute reflected on the 20th anniversary of China's 2001 accession to the WTO, and what that has meant for China, the U.S. and the global trading system. Guest speakers and panelists discussed the future of the multilateral trading system, and China's central and increasingly complicated role in the world economy and the WTO.
Featured Remarks:
Ambassador Charlene Barshefsky, former Senior International Partner, WilmerHale; former United States Trade Representative
Minister Long Yongtu, Former Vice Minister & Chief Negotiator for China's Accession
Ambassador Xiangchen Zhang, Deputy Director-General, World Trade Organization
Discussion Featuring:
Craig Allen, President, US-China Business Council
Wendy Cutler, Vice President, Asia Society Policy Institute; former Acting Deputy United States Trade Representative
Charles W. Freeman III, Senior Vice President for Asia at the U.S. Chamber of Commerce, and former Assistant U.S. Trade Representative for China
Deborah Lehr, Managing Partner and Chief Executive Officer of Edelman Global Advisory; former Deputy Assistant U.S. Trade Representative for China
Dr. Yeling Tan, Assistant Professor of Political Science, University of Oregon
Stephen Vaughn, Partner, International Trade Team, King & Spalding; former General Counsel, Office of the U.S. Trade Representative
Following is information on Chinese imports since it joined the WTO in 2001. Import data provided by Trade Data Monitor.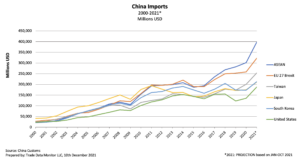 SPEAKER BIOGRAPHIES
Ambassador Charlene Barshefsky is a Non-Resident Senior Fellow of the Paul Tsai China Center. She is Senior International Partner at the WilmerHale law firm in Washington, D.C., and has been a participant in our Center's activities for many years. She joined WilmerHale after serving as the U.S. Trade Representative—the chief trade negotiator and principal trade policymaker for the United States—from 1997 to 2001, and acting and deputy USTR from 1993 to 1996. She is best known internationally as the architect and chief negotiator of China's historic WTO agreement, as well as global agreements in financial services, telecommunications, intellectual property rights, high-technology products and cyberspace. She is widely recognized as a central thought-leader and practitioner in the fields of international business and international economic and trade issues. Her legal career in the field has encompassed international litigation, commercial and government negotiations, investment and regulatory advice, and dispute resolution, and she has written and lectured extensively both here and abroad. Her negotiations are the subject of several Harvard Business School case studies, and she has received many honors for lifetime achievement, including a number of honorary degrees and industry awards. She is based in Washington, D.C.
Minister Long Yongtu was Chief Negotiator for China's resumption of the General Agreement on Tariffs and Trade (GATT) contracting party status and its accession to the World Trade Organization (WTO). Apart from leading trade negotiations, Mr. Long was also in charge of the multilateral economic and trade affairs between China and the United Nations development agencies. He was fully involved in Asia-Pacific Economic Cooperation affairs and attended the APEC meetings of trade ministers each year from 1992 to 2001. After diplomatic service abroad from 1978 to 1986, Mr. Long returned to China and became Deputy Director-General of the China International Center for Economic and Technical Exchanges (CICETE). In January 1992 Mr. Long was appointed Director-General of the Department of International Relations, MOFTEC, and Assistant Minister of the Ministry in April 1994. In February 1997 he was appointed Vice Minister and Chief Representative for Trade Negotiations of MOFTEC. 
Mr. Long Yongtu was Secretary-General of the Boao Forum for Asia from 2003 to 2010. In addition to his official duties Mr. Long is the Dean of the School of International Relations and Public Affairs, Fudan University and visiting professor of many renowned Chinese academic institutions.
Ambassador Xiangchen Zhang formerly served as Vice Minister in the Ministry of Commerce of China. He has long and extensive experience on WTO issues, international negotiations, and policy research. Ambassador Zhang served until recently as China's Permanent Representative to the WTO and previously as Deputy Permanent Representative. He has had an extensive career of more than 30 years in international trade, serving as Director of the Department of International Trade and Economic Affairs of the Ministry of Foreign Trade and Economic Cooperation; as Director-General of the Department of WTO Affairs of the Ministry of Commerce; and as Director General of the Department of Policy Research of the Ministry of Commerce. Ambassador Zhang holds a bachelor's degree in Law, a Master's degree in International Relations and a PhD in International Politics from Peking University.
Craig Allen began his tenure in Washington, DC as the president of the US-China Business Council (USCBC), a private, nonpartisan, nonprofit organization representing over 200 American companies doing business with China on July 26, 2018. Prior to joining USCBC, Craig had a long, distinguished career in US public service. Craig began his government career in 1985 at the Department of Commerce's International Trade Administration (ITA). He entered government as a Presidential Management Intern, rotating through the four branches of ITA. From 1986 to 1988, he was an international economist in ITA's China Office. In 1988, Craig transferred to the American Institute in Taiwan, where he served as Director of the American Trade Center in Taipei. He held this position until 1992, when he returned to the Department of Commerce for a three-year posting at the US Embassy in Beijing as Commercial Attaché. In 1995, Craig was assigned to the US Embassy in Tokyo, where he served as a Commercial Attaché. In 1998, he was promoted to Deputy Senior Commercial Officer. In 1999, Craig became a member of the Senior Foreign Service. From 2000, Craig served a two-year tour at the National Center for APEC in Seattle. While there, he worked on the APEC Summits in Brunei, China, and Mexico. In 2002, it was back to Beijing, where Craig served as the Senior Commercial Officer. In Beijing, Craig was promoted to the Minister Counselor rank of the Senior Foreign Service. After a four-year tour in South Africa, Craig became Deputy Assistant Secretary for Asia at the US Department of Commerce's International Trade Administration. He later became Deputy Assistant Secretary for China. Craig was sworn in as the United States ambassador to Brunei Darussalam on December 19, 2014. He served there until July 2018, when he transitioned to President of the US-China Business Council.
Craig received a B.A. from the University of Michigan in Political Science and Asian Studies in 1979. He received a Master of Science in Foreign Service from Georgetown University in 1985.
Charles W. Freeman III is Senior Vice President for Asia at the U.S. Chamber of Commerce, and has been helping companies navigate complex markets in the Asia-Pacific for 25 years. His career has included senior stints in government, business, law, and academia, giving him a unique perspective on the challenges and opportunities in the world's most dynamic region. During his government career, Freeman was assistant U.S. Trade Representative for China affairs, serving as principal U.S. trade negotiator with China. He also was legislative counsel in the U.S. Senate, where he concentrated on East Asian economic and trade issues. After leaving government, Freeman consulted on Chinese and other Asia-focused business and policy matters for some of the world's leading companies during market entry, expansion, and crises phases alike. He also served as PepsiCo's vice president for global public policy and government affairs for Asia, the Middle East, and Africa. In addition, Freeman was chair of China studies at Washington, D.C.-based think tank the Center for Strategic and International Studies (CSIS). Earlier, he was based in Hong Kong with The Asia Foundation and the International Herald Tribune and worked as a securities lawyer and venture capitalist investing in emerging markets in Eastern Europe, Central Asia, and China. He is on the board of directors of the National Committee on U.S.-China Relations and Harding Loevner Funds, an internationally focused mutual fund group. He is also a senior adviser to CSIS.
Freeman earned his doctor of law degree from Boston University's School of Law and his bachelor's degree in Asian studies and economics from Tufts University. He did postgraduate work at Fudan University in Shanghai and studied Mandarin Chinese at the Taipei Language Institute.
Deborah Lehr is the Vice Chairman and Executive Director of the Paulson Institute. In that capacity, she advises the Chairman on U.S.–China relations as well as oversees the development and implementation of Paulson Institute programs and initiatives. In addition, Ms. Lehr manages the Green Finance Center for the Paulson Institute. Ms. Lehr has served in the public, private and not for profit sectors focused on China, the Middle East and emerging markets. She advised Mr. Paulson when he was the CEO and Chairman of Goldman Sachs and helped then-Treasury Secretary Paulson to create and launch the U.S.-China Strategic Economic Dialogue. In addition, she served as Senior Advisor to the Chairman and CEO of Merrill Lynch and was a Senior Managing Director at the New York Stock Exchange. Ms. Lehr has built several successful consulting businesses, including as a partner at Mayer Brown, a top-10 law firm, as President of Stonebridge China and then with her own firm, Basilinna. Basilinna is focused on China and the Middle East.
Ms. Lehr also served in the U.S. Government in the Executive Office of the President as a Deputy Assistant U.S. Trade Representative for China, where she was a lead negotiator for China's accession to the World Trade Organization, for two intellectual property rights negotiations and on the team for the 1992 Market Access Agreement. Also, Ms. Lehr was one of the youngest Directors of Asian Affairs at the National Security Council. Previous to that, she was involved in export control and trade policy issues at the Department of Commerce. As the Founder and Chairman of the Antiquities Coalition, she works with governments around the world to fight against the illicit trade in antiquities. She serves on the International Advisory Board of the London School of Economics, the World Monuments Fund Board and the Middle East Institute Board. Ms. Lehr is a member of the Council on Foreign Relations. UNESCO listed Ms. Lehr on its inaugural list of accomplished global women. She also received the prestigious Hadrian Award from the World Monument Fund for her work in fighting the illicit trade in antiquities.
Ms. Lehr has lived and studied around the world, including China, England, France, and Germany. Her writings have appeared in the Wall Street Journal, Huffington Post, Foreign Affairs, South China Morning Post, U.S. News and World Report, Caixin Magazine, and Xinhua.net, among others.
Wendy Cutler is Vice President at the Asia Society Policy Institute (ASPI) and the managing director of the Washington, D.C. office. In these roles, she focuses on building ASPI's presence in the nation's capital and on leading initiatives that address challenges related to trade, investment, and innovation, as well as women's empowerment in Asia. She joined ASPI following an illustrious career of nearly three decades as a diplomat and negotiator in the Office of the U.S. Trade Representative (USTR), where she also served as Acting Deputy U.S. Trade Representative. During her USTR career, she worked on a range of bilateral, regional, and multilateral trade negotiations and initiatives, including the U.S.-Korea Free Trade Agreement, the Trans-Pacific Partnership, U.S.-China negotiations, and the WTO Financial Services negotiations. She has published a series of ASPI papers on the Asian trade landscape and serves as a regular media commentator on trade and investment developments in Asia and the world.
Cutler received her master's degree from Georgetown University's School of Foreign Service and her bachelor's degree from George Washington University.
Dr. Yeling Tan is an Assistant Professor of Political Science at the University of Oregon. She is also a non-resident scholar at UC San Diego's 21st Century China Center and a public intellectual fellow with the National Committee on US-China Relations. She holds a PhD in Public Policy and an MPA in International Development from Harvard University, and a BA in International Relations and Economics from Stanford University. Dr. Tan's latest book is Disaggregating China, Inc: State Strategies in the Liberal Economic Order, which examines how the WTO changed China. She has also written for Foreign Affairs, Foreign Policy and The Washington Post's Monkey Cage blog.
Stephen P. Vaughn is a Partner in the International Trade Team of King & Spalding who works primarily on international trade litigation and policy matters. In April 2019, Stephen completed more than two years of service as the General Counsel for the Office of the United States Trade Representative (USTR). In that position, he managed a team of government attorneys representing U.S. interests in both trade negotiations and trade litigation. During two months in early 2017, Stephen also served as the acting U.S. Trade Representative.
While at USTR, Stephen was directly involved in numerous significant issues, including the new U.S.-Canada-Mexico Agreement (USMCA), actions undertaken by the United States against China pursuant to Section 301 of the Trade Act of 1974, and efforts to revise the Korea-U.S. Free Trade Agreement. He also supervised U.S. litigation efforts before the World Trade Organization (WTO), as well as litigation undertaken pursuant to other U.S. free trade agreements. Stephen represented the Administration in numerous meetings regarding U.S. trade policy with Congressional officials and officials from other countries.
Before working at USTR, Stephen spent almost two decades in private practice representing clients in high-profile trade matters. Much of his practice focused on injury issues in the context of antidumping and countervailing duty (AC/CVD) litigation. He has lengthy experience in complex trade litigation before the U.S. International Trade Commission, the U.S. Court of International Trade, the U.S. Court of Appeals for the Federal Circuit, and North American Free Trade Agreement binational panels. During his time in private practice, Stephen represented clients in a number of trade policy matters, from enforcement of unfair trade laws to the role of trade issues in the context of climate change. Stephen has also served as an adjunct professor at Georgetown University Law Center, where he co-taught a seminar on U.S. trade policy and the WTO.