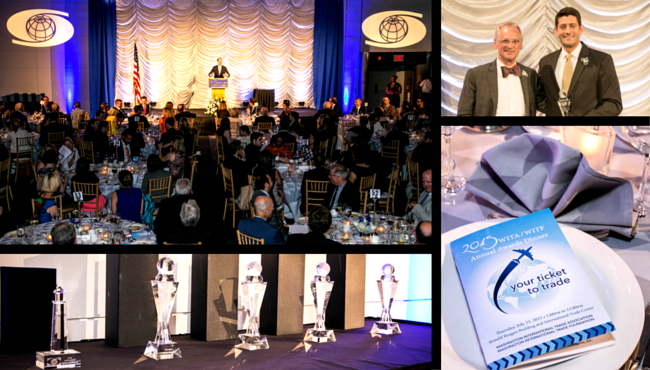 On July 23rd the Washington International Trade Association (WITA) and Washington International Trade Foundation (WITF) hosted their 21st Annual Dinner (#TradeProm). Senator Tom Carper and Congressman Earl Blumenauer presented WITA/WITF's Congressional Leadership Award to Senate Finance Chairman Orrin Hatch, Senate Finance Ranking Member Ron Wyden, and House Ways and Means Chairman Paul Ryan.  Former USTR Susan Schwab presented WITA's Lifetime Achievement Award to The Right Honourable Mike Moore, New Zealand's Ambassador to the United States.  And longtime Senate Finance Committee International Trade Counsel, Everett Eissenstat was the 8th recipient of the Lighthouse award. The Dinner also featured remarks from WITA Executive Director Ken Levinson and President Steve Lamar. The Master of Ceremonies was WITFBoard member Nicole Venable.
Congressional Leadership Award
After a reception featuring embassy sponsored stations from around the world and opening remarks by Lamar and Levinson, the presentation of awards began with Senator Tom Carper's introduction of Chairman Hatch, his long time Finance Committee colleague. Hatch's remarks heralded the passage of Trade Promotion Authority (TPA) and expressed both optimism and reservations about the upcoming Trans-Pacific Partnership (TPP) negotiations. As dinner was served Nicole Venable came to the stage and gave the attendees a humorous Buzzfeed based explanation of what means to be a trade wonk. She told the audience that you know if you're a trade wonk "if you look for the made in" on anything you buy. Next, Congressman Earl Blumenauer took to the stage to introduce his Ways and Means colleague Chairman Paul Ryan. In his acceptance speech Ryan made sure to thank lawmakers on both sides of the isle with special emphasis on his Democratic colleagues in the House including his introducer Blumenauer and fellow Wisconsin representative and past WITA honoree Ron Kind, as well as fellow Honoree Ron Wyden. A familiar face soon came to stage again as Blumenauer emerged to introduce his fellow Oregonian Ranking Member Wyden. Wyden expressed gratitude and amazement at his honor given what he calls his "humble beginnings", and gave a passionate explanation of how free trade and the TPP align with his progressive view of the economy. He also stressed the importance of making sure that our trade agreements expand safeguards and standards that are already present in the US.
Lifetime Achievement Award
This year, WITA presented its Lifetime Achievement Award  to the Honorable Michael Moore, the New Zealand Ambassador to the United States and a former Prime Minister of New Zealand and Director General of the WTO. Following a heartfelt introduction by Ambassador Susan Shwab, a former USTR, a video of Moore, who is still recovering from a stroke, was showed to the audience. A standing ovation directly followed and Deputy Chief of Mission for New Zealand's embassy in the US and former New Zealand Ambassador to China Carl Worker accepted the award on behalf of Ambassador Moore.
Lighthouse Award and Closing Remarks 
Dessert was served and soon after Venable returned to introduce the perennial "Prom King and Queen, WITF board members Bill Lane and Sarah Thorn to present the Lighthouse award. After a set of clues they announced that International Trade Counsel to Senator Hatch, Everett Eissenstat had been chosen as this year's honoree. The night ended with closing remarks from Venable and Devry Boughner Vorwerk and the announcement of the winners of the first annual raffle prizes including assorted spirits from the DISCUS, a Swash from Whirlpool, dates from the Embassy of Bahrain, and a Surface Pro from Microsoft. This year's annual awards dinner was the largest yet; featuring many new sponsors as well as Government and Embassy participants to help reach a sold-out total of 544 attendees.