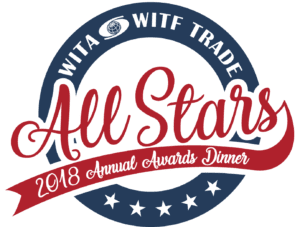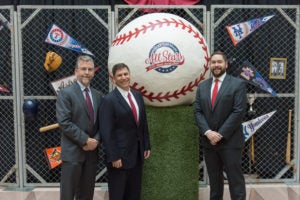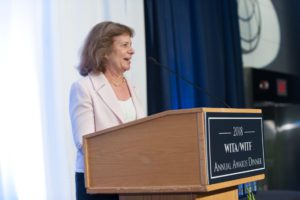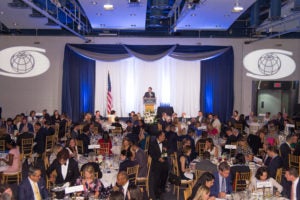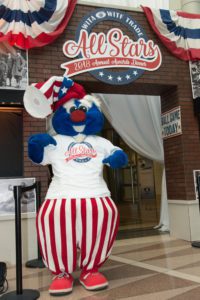 On Wednesday, July 18, 2018, the Washington International Trade Foundation (WITF) hosted their Annual Awards Dinner (#TradeProm) at the Atrium and Atrium Hall of the Ronald Reagan Building and International Trade Center.
Honorees included Senator Ben Cardin (D-MD), Senator Pat Roberts (R-KS), Secretary Sonny Perdue, and Laura Baughman, President of The Trade Partnership.  Other speakers included Senator Heidi Heitkamp (D-ND), who presented the Congressional Leadership Award to Senator Ben Cardin; Dan Glickman, who presented the Congressional Leadership Award to Senator Pat Roberts; and Ways & Means Chairman Kevin Brady, who presented the American Leadership Award to  Secretary Sonny Perdue.   Sarah Thorn, of Walmart, and Bill Lane, of Trade4America presented the Lighthouse Award to Laura Baughman. The Dinner featured remarks by WITA Executive Director Kenneth Levinson, WITA President Steve Lamar, WITF Board President Ted Austell, Selina Jackson of P&G, and the evening's Master of Ceremonies Nicole Bivens Collinson, of Sandler, Travis & Rosenberg, P.A.
Introduction 
The evening opened with cocktail reception featuring wines, beers, and spirits, with products donated by the Distilled Spirits Council and Embassies from around the world.  Baseballs, bats, and vintage baseball signs decorated the Atrium as a nod to the MLB All-Star Game hosted in Washington, D.C. the previous evening.
After the cocktail reception, the seated dinner began with opening remarks by WITA Executive Director, Kenneth Levinson, and WITA President, Steve Lamar, who noted the WITA central role in "putting the community into trade community", as demonstrated by the incredible growth of the organization in the past few years – with nearly 2,500 regular members, and over 1,400 members of Young Trade Professionals.  Following Lamar's welcome, Ted Austell and Selina Jackson gave a tribute to several trade leaders who were lost since the 2017 Annual Dinner, Walter Bastien, Bob Vastine, Matt Niemeyer, and Doug Goudie, whose wife and daughter were on hand for the remembrances.
Following a short break for dinner, Nicole Bivens Collinson, WITA Board member and Master of Ceremonies, came to the stage and gave remarks about how the trade community is a family who is "responsible for making the case at all levels that trade can and does benefit America and makes America great."
Congressional Leadership Award – Senator Ben Cardin 
Senator Heitkamp (D-ND) began the awards portion of the evening by presenting the Congressional Leadership Award to Senator Ben Cardin (D-MD). Senator Cardin remarks focused on the importance of trade to America and the world. "We are in a global economy…the economy in Maryland depends upon trade. Our economy in America depends upon trade," Senator Cardin remarked. "America needs to be the leader, globally, on [trade] issues. We cannot do it alone."
Congressional Leadership Award – Senator Pat Roberts 
Chairman Pat Roberts (R-KS) further expanded the evening's discussion of the importance of international trade for American leadership.  While accepting the Congressional Leadership Award from Dan Glickman, the former Secretary of Agriculture, Senator Roberts underlined the lessons he learned while serving as Chairman of the Senate Agriculture Committee. "Trade—more specifically, agriculture trade—should not be used as a weapon," Chairman Roberts said. "Rather, it is a tool. It is a tool for peace, it is a tool for national security, it is a tool for open markets, and it is a tool for economic growth."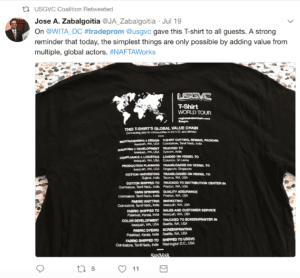 American Leadership Award – Secretary Sonny Perdue 
In recognition of his work in expanding global market access for American farmers, Secretary of Agriculture Sonny Perdue received the American Leadership Award from Ways & Means Chair Kevin Brady. Secretary Perdue played on the dinner's baseball theme as he shared his remarks about trade policy in today's political climate. "Baseball is a great game, but it has a book of rules…that both teams are responsible for complying with," Secretary Perdue commented. "We've got to acknowledge trade-wise, internationally, that we've got some people that aren't playing by the rules…I am confident if we have free and fair trade, the United States farmer, rancher, producer, or forester will out-compete anyone in the world."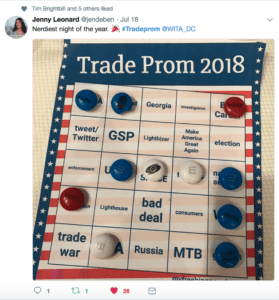 Lighthouse Award and Closing Remarks 
The evening concluded with the presentation of the Lighthouse Award by WITA/WITF Board Member, Sarah Thorn (Walmart) and WITF Vice Chair, Bill Lane (Trade for America), Mark Knight (COTK). The Lighthouse Award is a surprise recognition given by the Foundation to outstanding members of the trade community. This year's recipient was Laura Baughman, President of The Trade Partnership and Trade Partnership Worldwide, LLC. The Lighthouse is awarded in recognition of the contributions Baughman has made to the trade community over the course of her career.