Click to Register via eventbrite for the Full 4-Part Package: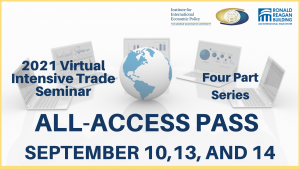 Click to Register via eventbrite for Individual Parts (Must be a WITA Member): 
2021 Intensive Trade Seminar Pricing:
Full package (4 Parts): 
WITA Member: $400
WITA Member (Government): $250
Non Member: $500
Non Member (Government): $400
Full Time University/Student: $250
Individual bundles available: $50-100/part
(Must be a WITA Member)
For group rates (3 or more ticket purchases), email Diego Anez (danez@wita.org) to receive a special rate.
To get WITA member pricing, click here.
Who Should Attend? 
The four-part Intensive Trade Seminar is geared towards individuals who want to learn how trade policy is made in Washington, DC. Past attendees include those in business, law, academia, NGOs, embassies and the U.S. Government.
Participants gain insight from trade professionals, pose questions to policy makers, and learn about the ever-shifting trade landscape. Attendees come away with an understanding of the trade policy-making process, the role of its key players, and the important issues facing policy makers.
The curriculum is focused on helping attendees broaden their understanding of trade policy making, those seeking a career in trade policy, others new to the trade policy field, and anyone serving the import/export community.
We also encourage the international community working on economic and trade issues, and others who want to learn more about international trade, to participate in this program. 
If you cannot view every session at the time it is originally offered, most sessions* will also be available off-line to paying attendees (access code will be required).
To keep the dialogue open and candid, the Intensive Trade Seminar is OFF THE RECORD and is not open to the press.
Proposed Dates and Format:
The 2021 Intensive Trade Seminar will be held virtually on Zoom**
12 Seminars in the course of 3 days (4-Part Series)
Each day will highlight an array of U.S. government agencies and their roles in formulating trade policy.
Part One: Role of the U.S. Congress and Government Agencies
Friday, September 10th, 9:00 AM – 12:00 PM (US/Eastern)
Part Two: Trade Law
Friday, September 10th, 1:00 PM – 4:00 PM (US/Eastern)
Part Three: Investment, Sanctions, and International Tax
Monday, September 13th, 9:00 AM – 12:00 PM (US/Eastern)
Part Four: U.S. Trade Agenda
Tuesday, September 14th, 9:00 AM – 12:00 PM (US/Eastern)
* Most sessions will be available to paying attendees to watch at a later time. However, certain sessions may not be recorded to facilitate more open discussion.
** If your agency or business does not use Zoom, we can work with you to make content available on an accessible platform for later viewing.