Click to Register via eventbrite for the Full 4-Part Package: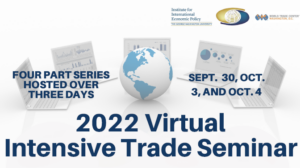 Summer Early Bird Pricing through July 31
Full package (4 Parts): 
WITA Member: $200
WITA Member (Government): $150
Non Member: $350
Full Time Student: $150
Individual bundles available: $50-100/part
(Must be a WITA Member)
For group rates (3 or more ticket purchases), email Diego Anez (danez@wita.org) to receive a special rate.
To get WITA member pricing, click here.
Who Should Attend? 
The four-part Intensive Trade Seminar is geared towards individuals who want to learn how trade policy is made in Washington, DC. Past attendees include those in business, law, academia, NGOs, embassies and the U.S. Government.
Participants gain insight from trade professionals, pose questions to policy makers, and learn about the ever-shifting trade landscape. Attendees come away with an understanding of the trade policy-making process, the role of its key players, and the important issues facing policy makers.
The curriculum is focused on helping attendees broaden their understanding of trade policy making, those seeking a career in trade policy, others new to the trade policy field, and anyone serving the import/export community.
We also encourage the international community working on economic and trade issues, and others who want to learn more about international trade, to participate in this program. 
If you cannot view every session at the time it is originally offered, most sessions* will also be available off-line to paying attendees (access code will be required).
To keep the dialogue open and candid, the Intensive Trade Seminar is OFF THE RECORD and is not open to the press.
Proposed Dates and Format:
Friday, September 30th, 9:00 AM – 12:00 PM (US/Eastern)
Friday, September 30th, 1:00 PM – 4:00 PM (US/Eastern)
Monday, October 3rd, 9:00 AM – 12:00 PM (US/Eastern)
Tuesday, October 4th, 9:00 AM – 12:00 PM (US/Eastern)
The 2022 Intensive Trade Seminar will be held virtually on Zoom**
12 Seminars in the course of 3 days (4-Part Series)
Each day will highlight an array of U.S. government agencies and their roles in formulating trade policy.
Past Sessions Include:
Role of the U.S. Congress and Government Agencies
The Congressional Role in Trade Policymaking

Trade Responsibilities in the Executive Branch and the Interagency Process

ITA and the Department of Commerce (Global Markets/USFCS, Industry and Analysis, and; Enforcement & Compliance)

The USITC – Investigations and Analysis
Trade Law, Enforcement, and Dispute Settlement
Dispute Settlement Understanding at the WTO

USTR Role in Monitoring and Enforcement

AD/CVD/Safeguards
Investment, Sanctions, and International Tax
Foreign Investment and Export Controls

Sanctions

International Tax and Trade
U.S. and Global Trade Policy Update
Worker-Centered Trade & Labor

WTO Update

U.S.- China Trade
Past Speakers Include:
Nasim Fussell, Trade Attorney, Holland & Knight; former Chief International Trade Counsel for the U.S. Senate Committee on Finance
Viji Rangaswami, Vice President, Federal Affairs, Liberty Mutual; former Chief International Trade Counsel and Staff Director, U.S. House of Representatives Committee on Ways and Means Trade Subcommittee
Douglas M. Bell, Global Trade Policy Leader, Ernst & Young; former Deputy Assistant Secretary of the U.S. Treasury for Trade and Investment
Kelly Ann Shaw, Partner, Hogan Lovells, former Deputy Assistant to the President for International Economic Affairs and Deputy Director of the National Economic Council
Michael J. Smart, Managing Director, Rock Creek Global Advisors; former Director for International Trade and Investment, National Security Council
Patrick Kirwan, Director, Trade Policy Coordination Committee, U.S. Department of Commerce; former Acting Deputy Assistant Secretary for Domestic Operations, U.S. and Foreign Commercial Service
Deanna Okun, Managing Partner, Adduci, Mastriani & Schaumberg LLP; former Chairwoman of the U.S. International Trade Commission
* Most sessions will be available to paying attendees to watch at a later time. However, certain sessions may not be recorded to facilitate more open discussion.
** If your agency or business does not use Zoom, we can work with you to make content available on an accessible platform for later viewing. All Diamond Sponsors will receive one free pass to attend the Intensive Trade Seminar.