This three-hour online event is open to ALL Fashion Institute of Technology (FIT) students (undergraduates and graduates) to learn about careers in international trade and business. Registration is free for students and faculty with a FIT email – must use university email to register.
Students will gain insight from trade professionals, pose questions to policymakers, and learn about exciting career opportunities in international affairs, business, and trade. Students will come away with an understanding of the trade policy-making community, the role of its key players, and the opportunities for internships and careers available to them.  
The WITA Academy Pathways to Opportunity with the Fashion Institute of Technology is a three-hour program. 
Session one, 3:30 PM – 4:45 PM EST, will focus on career opportunities in the public sector. 

Session two, 4:45 PM – 6:00 PM EST, will highlight private sector opportunities. 
Students that attended at least 50% of the sessions of the day will receive a free one-year membership to the Washington International Trade Association (WITA), a certificate of achievement, and access to attend WITA online policy discussions free of charge for one year.
For questions about the event, please contact the WITA Staff events@wita.org 
---
Fall 2023 Curriculum
To be announced…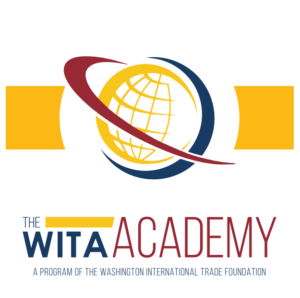 The mission of the WITA Academy™ is to make trade education and career opportunities in international trade accessible to communities in the United States and around the world, and to make the trade community itself more diverse, equitable and inclusive.
The WITA Academy works with trade leaders in businesses, law, academia, NGOs, embassies and the U.S. Government to help stakeholders, students, and others to better understand and navigate the U.S. and global trade policy apparatus.