These sessions will also be available to view online.
---
Event Agenda and Speakers
Agenda subject to modification
1:30 PM – Doors Open to the Public
2:00 PM – Welcoming Remarks
Kenneth Levinson, WITA Executive Director
2:05 PM – 200 Years of Bilateral Relations
Juan Carlos Pinzón Bueno, Ambassador of Colombia to the United States
2:10 PM – Taking Advantage of FTA Opportunities for the Agribusiness Sector in Both Countries
Jorge Enrique Bedoya, President, Colombian Farmers Society (SAC)
Gonzalo Moreno Gómez, Executive President, National Poultry and Egg Producers Federation (FENAVI)
Augusto Solano, President, Association of Flower Exporters (Asocolflores)
Jim Sutter, CEO, U.S. Soybean Export Council (USSEC)
Maria Zieba, Assistant Vice President, International Affairs, National Pork Producers Council (NPPC)
Moderator: Kenneth Smith Ramos, Partner, Agon; Former Chief Negotiator for the USMCA; Former Director of the Trade Office at the Embassy of Mexico
2:40 PM – Successful Stories of Trade and Investment
Arrow Augerot, Director, International Policy, Americas, Amazon
Fabrizio Opertti, Manager, Integration and Trade Sector, Inter-American Development Bank (IDB)
Luis Fernando Restrepo, Chief Executive Officer, Crystal SAS
Davis Warlick, Executive Vice President, Parkdale Mills
Moderator: Flavia Santoro, President, Procolombia
3:15 PM – The Roadmap: Negotiation and Approval by Congress
Representative Kevin Brady, Ranking Member, House Committee on Ways and Means
Hernando José Gómez, President, Asobancaria, the Banking and Financial Institutions Association of Colombia; former Chief Colombian Negotiator of the U.S.- Colombia Free Trade Agreement; and former Colombian Ambassador to the WTO
Everett Eissenstat, Chair of North America and Global Trade Lead, Edelman Global Advisory; former Lead U.S. Negotiator of the U.S–Colombia Free Trade Agreement; former Chief Trade Counsel, Senate Finance Committee 
Moderator: Ileana Ros-Lehtinen, Senior Advisor, Akin Gump Strauss Hauer & Feld LLP; Former Member of the U.S. House Representatives
3:50 PM – Assessment and Outlook of the U.S.-Colombia Trade Partnership
María Ximena Lombana, Minister of Trade, Industry and Tourism, Government of Colombia
Arun Venkataraman

, Assistant Secretary for Global Markets and Director General of the U.S. & Foreign Commercial Service

Introductory Remarks: Eric Farnsworth, Vice President and head of the Washington, DC office of the Council of the Americas and Americas Society
4:20 PM – Envisioning the Next Ten Years of Bilateral Relations
Marta Lucía Ramírez, Vice President, Colombia and Minister of Foreign Affairs, Government of Colombia
Introductory Remarks: Thomas F. "Mack" McLarty, Chairman, McLarty Associates
4:30 PM – Event Conclusion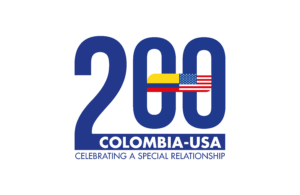 Thank you to our Sponsors!