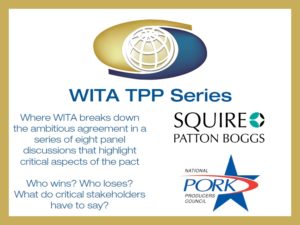 TPP is the most ambitious trade agreement in a generation.  Every part of the US and global economy will be touched by the TPP.
---
Eight Events over Four Months
Covering:
The Digital Economy, Agriculture, Manufacturing,
the Impact on Consumers, Rules and Disciplines,
Services, Intellectual Property, and
What TPP Will Mean for the States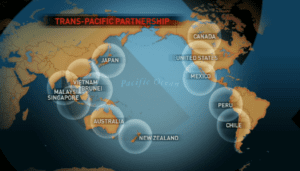 ---
WITA will generate over 75,000 emails for each TPP event, and over 600,000 emails for the entire series. By 
sponsoring
 this
signature WITA series or individual events
, you will reach over 15,000 international trade policy professionals, including, but not limited to, business people, diplomats and trade officials from all TPP and FTA partner countries, academics, U.S. government officials (in the Administration and Congress), attorneys, consultants, and others.
By 
sponsoring
 this series, you will ensure brand or your firm is recognized as a leader in this debate (whether you support TPP or oppose it).
Widely considered Washington DC's "premier" trade forum, WITA is the only non-profit, non-partisan, neutral forum focused on the open and robust discussion of international trade and economic issues.  TPP Series programs will be recorded and available for viewing around the world.
Full Series 

Sponsorship

 Benefits Include
(Modified benefits for 
sponsorship
 of individual events)
Special Recognition at all TPP Series events and communications, including but not limited to event emails, special signage, handouts, pop ups, etc.
Opportunity for logo'ed contributions to our 

sponsor

 table at the TPP Series events
Unlimited free passes to all WITA TPP series events
Special recognition at WITA's Annual Awards Dinner – Washington's biggest and most widely attended trade event of the year.
Recognition in all official WITA TPP publications
Sidebar logo rotation on both of WITA's website platforms WITA.org and AmericasTradePolicy.com
Opportunity for rotational content on WITA.org and AmericasTradePolicy.com for duration of the TPP Series
Option for a one-time dedicated email using WITA's database of over 15,000 trade professionals.
Logo-Link on WITA's website, event pages, invitations, and promotions.