Revisiting International Trade's Role in Domestic Development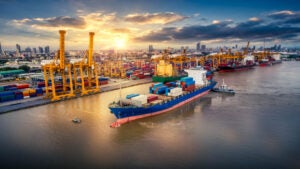 Unlocking trade-enabled economic development alongside tenets of development including gender equity, income inequality, infrastructure, and other SDGs is very much possible.
Against a backdrop of rising trade protectionism, increasing bilateral trade agreements, and a growing body of evidence supporting trade's positive influence on economic development and job creation, India has an opportunity to revisit international trade policy consistent with its own domestic development agenda. Specifically, revisiting policy with the potential to address the modern economic, social, and environmental dimensions of sustainable development. In this article, we explore why trade and economic development—especially poverty alleviation—has had mixed results, why we believe integrated trade and domestic policies could address some of the issues, and four tensions we must address to develop a more progressive and inclusive trade policy specific to India.
Importantly, this re-exploration addresses a 50-year-old convention and bias against international trade for developing countries for two reasons. First, that it prevents the poor from benefiting from trade with countries with higher productivity—a bias rooted in the idea that developing countries' exportation of primary products would largely exploit natural resources and limit higher-value job creation, given those economies were valued primarily for low-cost labour and mineral resources. That, despite near-term gains from exports, in the long-run, such transnational trade benefits developed economies at the cost of developing ones. Second, the idea that imposing high import tariffs benefit developing countries through important substitution, inducing domestic production and higher-value job creation. This led to a belief that international trade worked well for already well-endowed developed countries but exacerbated domestic inequality for developing countries by displacing domestic economic activity. This view on trade protectionism is dated. Unable to reflect the empirically positive experiences of other Asian and Latin American countries, India's own enhanced capacity, and an opportunity for India to participate in global value chains (GVCs) in an increasingly polarized geopolitical context (e.g. iPhones made in India).
12/19/2022 | Nirvaan Pandit, Dr. Badri Narayanan Gopalakrishnan | Business Standard
Trade and Development Report 2022
After a rapid but uneven recovery in 2021, the world economy is in the midst of cascading and multiplying crises. With incomes still below 2019 levels in many major economies, growth is slowing everywhere. The cost-of-living crisis is hurting the majority of households in advanced and developing countries. Damaged supply chains remain fragile in key sectors. Government budgets are under pressure from fiscal rules and highly volatile bond markets.
Debt-distressed countries, including over half of low-income countries and about a third of middle-income countries, are edging ever closer to default. Financial markets are jittery, as questions mount about the reliability of some asset classes. The vaccine roll-out has stalled, leaving vulnerable countries and communities exposed to new outbreaks of the pandemic.
Against this troubling backdrop, climate stress is intensifying, with mounting loss and damage in vulnerable countries who lack the fiscal space to deal with disasters, let alone invest in their own long-term development. In some countries, the economic hardship resulting from these compounding crises is already triggering social unrest that can quickly escalate into political instability and conflict.
The resulting policy challenges are daunting, especially in an international system marked by rising distrust. At the same time, the institutions of global economic governance, tasked since 1945 with mitigating global shocks, delivering international public goods and providing a global financial safety net, have been hampered by insufficient resources and policy tools and options that are "rigid and old fashioned".
Even as growth in advanced economies slows down more sharply than anticipated in last year's Report, the attention of policymakers has become much too focused on dampening inflationary pressures through restrictive monetary policies, with the hope that central banks can pilot the economy to a soft landing, avoiding a full-blown recession. Not only is there a real danger that the policy remedy could prove worse than the economic disease, in terms of declining wages, employment and government revenues, but the road taken would reverse the pandemic pledges to build a more sustainable, resilient and inclusive world.
…The world is facing a systemic crisis and only systemic action can solve it. Focusing solely on a monetary policy approach – without addressing supply-side issues in trade, energy and food markets – to the cost-of-living crisis may indeed exacerbate it. Under current supply-chain challenges and rising uncertainty, where monetary policy alone cannot safely lower inflation, pragmatism will need to replace ideological conformity in guiding the next policy moves.
10/03/2022 | United Nations Conference on Trade and Development
How Important are Mutual Recognition Agreements for Trade Facilitation?
Trade in the 21st century may face lower tariffs, but regulations that affect international trade in goods and services have proliferated. While regulations are important for many public policy objectives, different and complex non-tariff measures can become unnecessarily costly trade barriers for the millions of companies engaged in international trade. Trade policy can play a crucial role in reducing these unnecessary costs, without impairing the ability of regulatory authorities to carry out their public policy responsibilities.
Mutual recognition agreements (MRAs) are a concrete trade policy instrument, specifically designed to achieve this dual objective. This paper revisits the arguments in favour of upgrading the existing EU MRAs to cover 21st century regulatory aspects impacting trade flows, offering empirical evidence on the positive difference MRAs have both on the value of exports and on increasing the number of exporting firms and their product portfolio towards new export destinations. The paper also summarises the results of a recent EU firm-level survey on the importance of MRAs for export performance. The results of the EU business surveys confirm the need for a renewed attention to MRAs, in particular with regard to emerging regulatory issues.
The Importance of Regulatory Cooperation for Trade Facilitation
International trade is present in everyone's life. Our daily routine depends on complex trade flows and production processes scattered across multiple countries, even if this hardly gets noticed by the final consumers. Trade flows have evolved over time and are becoming increasingly intricate, with countless parts and components crossing multiple borders at different stages of production along global supply chains before reaching the final consumer. While trade flows today may face lower tariffs, non-tariff rules and regulations that affect international trade in goods and services have proliferated. These non-tariff measures (NTMs) can play an important role in addressing public policy objectives, such as consumer safety or environmental protection. Companies and products engaged in complex global supply chains need to comply with a whole range of administrative and technical requirements, including testing and certification obligations that may differ from one country to another. At times, such different and complex non-tariff measures can become unnecessarily costly trade barriers for the millions of companies engaged in international trade.
12/31/2022 | Lucian Cernat | European Centre for International Political Economy
Sea Change in EU Trade Policy
Opportunities for diversification in the Indo-Pacific
Europe's trade policy is heading for a sea change. But it is not Putin's war of aggression against Ukraine that is the main reason for this development. Rather, there are long-term influencing factors at work here: the WTO-centered multilateral trade order is visibly eroding. Protectionism is on the rise around the globe. World trade is growing only marginally or is even stagnating. Globalization is undergoing a transformation whose outcome is uncertain. And international trade is increasingly being instrumentalized for political purposes.
In February 2021, the European Commission responded to these structural upheavals by announcing an "open, sustainable and assertive trade policy". However, there has so far been uneven progress towards implementing the objectives included in the new trade policy strategy. While the EU's intention to strengthen both Europe's assertiveness and the sustainability of trade is being realized through numerous new instruments and measures, its promise of openness and liberalization remains unfulfilled for the time being. In particular, the Indo-Pacific region beyond China would offer the German and European economies significant opportunities to tap new sources of raw materials and access reliable supplier networks and growing sales markets.
The EU's response to the political and structural trade challenges of the 21st century has been quite remarkable. The following stand out as important steps towards European strategic autonomy: the EU foreign investment screening mechanism (10/2020), the anti-coercion instrument (12 /2021), the updated European industrial strategy focusing on climate neutrality and digital transformation (05 /2021), the European chip bill (02/2022) and the European supply chain draft law (02 / 2022).
These laws and measures provide European industries and businesses with some protection against both unfair competition and non-European trading partners that seek to put political pressure on the EU. Thus, they are manifestations of an emphatically defensive orientation of trade and industrial policy. But beyond these measures to protect companies and consumers, trade policy must not lose sight of international competition and global markets. It is important that European companies also take an offensive approach to accessing new supply and sales markets and reducing their obvious vulnerabilities in doing business with China.
10/31/2022 | Hanns Günther Hilpert | SWP | German Institute for International and Security Affairs
WITA – We put the community in trade community.
Information about upcoming WITA and trade community events