WITA Webinar: The U.S.-EU Mini Trade Negotiation
The US and EU are negotiating a new targeted critical minerals agreement that should help European auto companies benefit from clean vehicle tax credits in the Inflation Reduction Act.
On Wednesday, March 22, panelists discussed what such a US-EU mini-trade agreement might look like, and how it might be written to withstand Congressional and potential legal scrutiny.
Featured Speakers:
Professor Kathleen Claussen, Georgetown Law
Cathy Koch, EY Global Sustainability Tax Leader, and former Chief Policy Advisor to Majority Leader Harry Reid for Tax and Economics
Kelly Ann Shaw, Partner, Hogan Lovells and former Deputy Assistant to the President for International Economic Affairs and Deputy Director of the National Economic Council
Moderator: Peter S. Rashish, Vice President and Director, Geoeconomics Program, American Institute for Contemporary German Studies, Johns Hopkins University
03/22/2023 | Washington International Trade Association
Ambassador Katherine Tai's Testimonies on the President's 2023 Trade Policy Agenda
On Thursday, March 23, Ambassador Katherine Tai, the United States Trade Representative, gave testimony before the U.S. Senate Committee on Finance on the President's 2023 trade policy agenda. She also testified on Friday, March 24 before the U.S. House Committee on Ways & Means on the President's 2023 trade policy agenda.
The videos of both hearings can be found on the WITA website.
03/23 and 03/24/2023 | U.S. Senate Committee on Finance | U.S. House Committee on Ways & Means
WTO Information Brief #7: Trade and Climate Change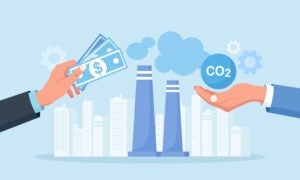 On April 12, WITA will welcome WTO Director General Ngozi for in-person remarks and host a panel discussion on the Role of the WTO in a Net Zero Future. Information on that event can be found here and below.
Decarbonization of the iron and steel industry value chain is of critical importance to achieving net zero targets. Iron and steel are essential inputs in nearly every facet of modern life, from construction to transportation and energy. However, iron and steel are among the most energy and emission-intensive industries globally. Iron and steel production is one of the largest coal consumers, accounting for approximately 8 per cent of annual CO2 emissions.
Global steel production has nearly tripled over the past 50 years, and it is the most used and recycled metal worldwide, with 1,864 million tonnes of crude steel produced in 2020. Global steel exports reached 458 million tonnes in 2021, representing around 25 per cent of global steel production. Emissions from steelmaking are generally difficult to reduce because existing efficiency and abatement options are limited and some alternative technologies are costly. It is therefore critical to accelerate global scale-up and commercialization of low-carbon steelmaking technologies, such as those for replacing carbon-based reduction with renewable electricity or green hydrogen, or the use of carbon capture, storage and usage.
…There are multiple pathways and technologies to decarbonize steelmaking (e.g. hydrogen-based steelmaking, electrolysis, and carbon capture, storage and usage). However, many options are still relatively costly and require government action to provide the necessary framework for scale and global dissemination. Governments have a pivotal role to play in push and pull mechanisms for near-zero emission steel, including for the commercialization of breakthrough technologies and green public procurement. Public–private partnerships are crucial in driving innovative technologies to decarbonize emission intensive industries. These include efforts to bring forward demand signals for near-zero and zero emission products by creating buyer's clubs for these products. 
A shift towards new technologies and processes for low-carbon steelmaking may involve the development of new supply chains and trade patterns to deliver the needed inputs (e.g. green hydrogen). This shift may create new opportunities for developing countries to integrate into green steel supply chains. Developing countries should be supported to exploit these opportunities given the expected future demand for steel products concentrated in developing markets and the need to ensure a just transition to a low-carbon economy.
12/21/2022 | World Trade Organization
Should the EU be Blamed for the Downfall of the WTO?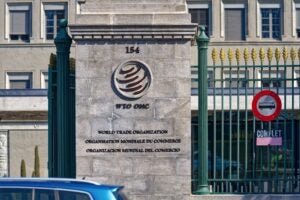 The European Union has been busy making bilateral trade agreements with diverse international partners since the mid-2000s. It has taken its integration with global markets into its own hands, and rarely relies on the WTO, the organisation that supposedly coordinate and monitor global trade cooperation. In this article, EUrologus seeks to explain the EU's shift to one-on-one trading agreements, and its broader implications on how trade negotiations are currently conducted.
In 1995, the establishment of the WTO promised closer economic integration of world markets. The concept was appealing: to establish an organization that would create common rules for trade, adjudicate and settle any potential disputes. Experts and politicians alike had high hopes, especially after 2001, when even China signed on to be a member. Currently, the WTO has 164 member countries, which, at least on paper, looks like a blazing success.
But there is a problem. Most major decisions on trade cooperation currently simply forego WTO, and are negotiated between two or, at best, a small group of countries. These one-on-one agreements, also called bilateral trade agreements have a strong message for proponents of global economic institutions. Many countries no longer look to the WTO for strengthening economic cooperation opportunities, and simply take matters into their own hands. Resulting in negotiating closer trade agreements with their desired partners, one at a time. This is, by many metrics not ideal. Arguably negotiating agreements bilaterally is significantly more time-consuming and less efficient than coordinating as a group, and smaller countries may be at a significant disadvantage in one-on-one situations.
There are very few actors in the world right now who are keener on establishing bilateral agreements than the EU. The European Union has 83 bilateral agreements in place with international partners. According to the European Commission, an additional 25 agreements are already negotiated and are under ratification or adaptation. Most of these are relatively recent: according to our analysis, 59 out of the 83 started after 2008.
…There are clear reasons the EU likes bilateral trade deals. Firstly, it seems to be remarkably efficient in establishing them, an improvement of the slow WTO proceedings. Second, the EU has an excellent bargaining position in bilateral negotiations with small partners, as it is a large and influential market. Thus, the EU is very effective in negotiating with less economically powerful countries, while it is perhaps less so when it comes to stronger partners. In the Asian case, South Korea and Japan are positive examples of trade cooperation, and even the EU-China Comprehensive Agreement on Investment is progressing slowly, but relatively well. On the other hand, trying to negotiate a free trade agreement with the US (the Transatlantic Trade and Investment Partnership, TTIP), was a huge failure. Canada has a provisionally applied but functioning bilateral agreement with the EU, and an agreement with Australia is under negotiation since 2018.
In conclusion, the EU is far from responsible for the WTO's failure in establishing efficient multilateral global economic cooperation, but the Union did shift its focus on bilateral agreements reasonably quickly when the WTO did not deliver at the expected pace. Is the EU's choice fair? Surely so, given its own economic interest. But the lack of a functioning WTO does increase the risk of potential trade wars, something the organisation was set up to prevent. And shocks from a trade war such as the US-China one, do reach European markets as well: in the long run, the EU does have an interest in keeping the WTO at least functional, if not increasingly relevant. Given the US's recent reluctant behaviour towards the WTO, this is no easy task, but the EU, given its undeniable economic and market power, is probably in one of the best positions to give the WTO the boost it so desperately needs.
03/21/2023 | Kata Moravecz | EUrologus
WITA – We put the community in trade community.
Information about upcoming WITA and trade community events