A new release from Rhodium Group in partnership with Baker McKenzie reveals that Chinese companies invested just $12.3 billion in the advanced economies of Europe and North America in the first half of 2019, down 18% on the same period last year and the lowest activity level since 2014.
North America and Europe are not the only regions seeing further declines in Chinese investment. China's global outbound investment dropped further in the first half of the year, with newly announced global M&A transactions by Chinese firms down 60% to $20 billion, as capital controls remain firmly in place at home amidst macroeconomic pressures and political and regulatory scrutiny abroad at elevated levels.
Europe still receives three times more investment than North America. While the downward trajectory is similar, Europe's higher level of investment reflects an asset base that is a better match for Chinese outbound policy, as well as lower political and regulatory scrutiny. North America, however, did see an increase of 19% from the exceptionally low base of last year. All the 19% increase was in the US as investment in Canada was flat on the year.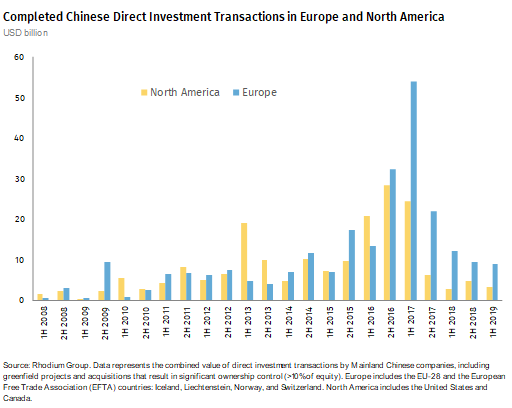 State-owned investors are staying home entirely: their activity in Europe and North America has dropped significantly, with privately owned firms accounting for 94% of combined investment in both regions. In Europe, the share of state-owned investors in total investment has dropped to 6%, after accounting for more than half of all Chinese investment in the past five years. In North America, the share of state-owned investment has dropped to 8% in H1 2019.
In H1 2019, consumer products and services and automotive accounted for three-quarters of total deal value in both Europe and North America, underscoring that regulatory scrutiny is pushing firms out of sectors scrutinized by domestic (real estate) and overseas (ICT and other high tech) regulators.
Looking forward, the deal pipeline does not give rise to much optimism for H2 2019. Chinese investment in Europe and North America is likely to stay at current low levels, with no major turnaround expected in H2 2019. As of June 2019, we only record $4.6 billion of pending M&A transactions in North America and $2 billion of pending transactions in Europe.
Read more from Baker McKenzie.