The WITA Academy Pathways to Opportunity program consists of a series of career pathways sessions hosted by trade professionals from the Washington D.C. policy community. The curriculum, divided between the public and private sector, will utilize the expertise and career journeys of our members to highlight different roles and job paths that are available in Washington D.C. and around the world. Learn directly from career professionals and learn about opportunities in Washington D.C. and around the world.
This two-hour online event is open to ALL students from the University of Nebraska–Lincoln, University of Nebraska Omaha, University of Nebraska at Kearney, University of Kansas, University of Denver, and other regional colleges and universities (undergraduates and graduate students), to learn about careers in international trade and business. Registration is free for students and faculty with their university email – students must use university email to register.
Students will gain insight from trade professionals, pose questions to policymakers, and learn about exciting career opportunities in international affairs, business, and trade. Students come away with an understanding of the trade policy-making community, the role of its key players, and the opportunities for internships and careers available to them.
For questions about the event, please contact the WITA Staff events@wita.org.
AGENDA
All times US/Central 
10:00 AM – 10:10 AM CT: Welcome & Introduction
Kenneth I. Levinson, Chief Executive Officer, Washington International Trade Association
Ambassador Darci Vetter, Head of Global Public Policy, PepsiCo; former Diplomat in Residence at the University of Nebraska Lincoln
10:10 AM – 10:50 AM CT: Careers in the Private Sector – Public and Government Affairs
Gregg Doud, Chief Operating Officer, National Milk Producers Federation; former Chief Agricultural Negotiator, Office of the U.S. Trade Representative
Maureen Hinman, Co-Founder and Chairman, Silverado Policy Accelerator; former Director, Environment and Natural Resources, Office of the United States Trade Representative
Moderator: Maria Zieba, Vice President of International Affairs, National Pork Producers Council (NPPC); former Trade Policy Manager, National Milk Producers Federation
10:50 AM – 11:30 AM CT: Careers in the U.S. Public Sector
United States Congress – Capitol Hill
Katie Morley, Senior Legislative Assistant, Office of Congressman Adrian Smith, Chairman of the Subcommittee on Trade, Committee on Ways & Means, House of Representatives
Office of the U.S. Trade Representative and Executive Branch
Julie Callahan, Assistant U.S. Trade Representative for Agricultural Affairs and Commodity Policy, Office of the U.S Trade Representative
Moderator: Kaitlin Sighinolfi, Senior Director, Government Affairs at International Paper; former Legislative Director, Congressman Charles Boustaney, and former Legislative Assistant, Senator Olympia Snowe
11:30 AM – 12:00 PM CT: Skills Training with Women in International Trade (WIIT)
Evelyn Suarez, Principal, The Suarez Firm
Susan Zimmerman, Global Public Policy Manager, John Deere
Moderator: Lisa Schroeter, Global Director of Trade and Investment Policy, The Dow Chemical Company
Conclusion
Diego Añez, Executive Director, WITA Academy; Managing Director, Washington International Trade Association
---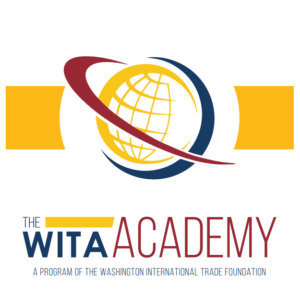 The mission of the WITA Academy™ is to make trade education and career opportunities in international trade accessible to communities in the United States and around the world, and to make the trade community itself more diverse, equitable and inclusive.
The WITA Academy works with trade leaders in businesses, law, academia, NGOs, embassies and the U.S. Government to help stakeholders, students, and others to better understand and navigate the U.S. and global trade policy apparatus.
---
Thank
you to our WITA Academy Sponsors