Introduction
SSWA countries have, by unilateral action, achieved remarkable progress in trade facilitation, especially as the COVID-19 time progressed. Besides transport facilitation and logistics, this paper shows that the SSWA countries have inducted simplification of trade procedures and digital trade facilitation; all of them have introduced new/revised protocols in order to protect their countries from the spread of Coronavirus. Box 3 presents some major takeaways. Although the policy responses in the initial months of the outbreak appeared to be fragmented and lacked coherence, countries in SSWA have shown convergence toward simplification of trade procedures and digital trade facilitation. While these measures have helped SSWA countries to promote trade and secure essential goods and services, some have simultaneously raised stringent protection measures which represent a risk to this still-fragile progress.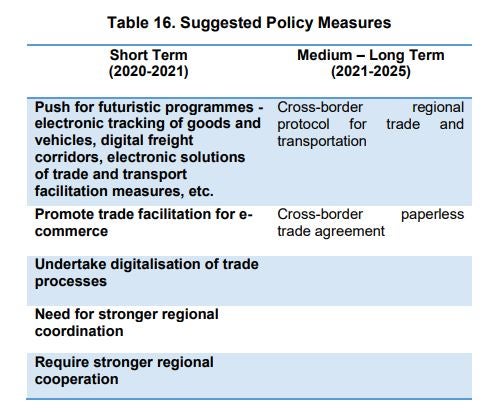 First, the responses to the COVID-19 pandemic suggest a greater scope of regional cooperation among the countries in the sub-region, especially in a protracted recession. Such cooperation can promote cooperation, for example in reducing overlaps of trade facilitation measures and sharing good practices. SAARC leaders have shown such regional cooperation with the formation of the SAARC COVID-19 Fund. There are important lessons from other regions which could also be applied to trade in the SSWA sub-region. For example, European countries have introduced etransit regimes like the eTIR international system. SSWA countries should also provide material assistance, share experience and technology, and strengthen multilateralism.
Second, a cross-border regional protocol would help strengthen the preparedness for future pandemics or similar disasters. Countries have already reintroduced national protocols for trade and transport facilitation during COVID-19. However, these protocols do not cover the cross-border aspects of trade and transport facilitation. It is,
therefore, recommended that ESCAP may design an ESCAP-wide protocol for trade and transport facilitation during emergencies like the Corona pandemic. This protocol could consider trade and transport-related actions, including facilitation of movement of goods and services, coordinated measures for enhanced controls of trucks and vehicles carrying goods and surveillance systems for monitoring the health of transport crew and enable contact tracing, electronic tracking of goods and vehicles, digital freight corridors, among others. Such a unique initiative, led by ESCAP, could help mitigate the impact of future pandemics on cross-border transport and trade.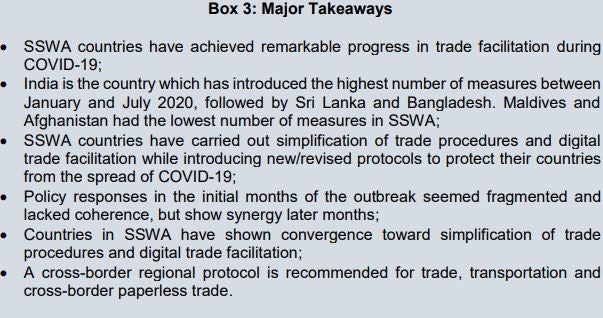 Third, as the pandemic recedes, countries may agree to the ESCAP's paperless trade initiative, the need for which has been felt widely during the pandemic. In this regard, the Framework Agreement on Facilitation of Cross-border Paperless Trade in Asia and the Pacific serves as a unique platform for ESCAP members to accelerate their recovery. There is no doubt that digital and sustainable trade facilitation measures have the potential to significantly benefit SSWA countries. Most countries have already undertaken concrete steps in this direction. Therefore, the time is ripe to take this work to its logical conclusion.
Fourth, there are other opportunities such as in trade finance, cross-border ecommerce, and innovative application of emerging technologies, among others. In particular, trade facilitation for e-commerce, where SSWA countries have made little or no progress, should be urgently taken up. At the same time, regional coordination on issues related to trade and transport facilitation could be crucial to minimize the economic damage to the region. ESCAP and other multilateral and regional bodies can assist in this regional coordination.
Fifth, digitalizing the trade processes in SSWA would be the next step toward a paperless trading environment. This would reduce the vulnerability of the global and regional supply chains. ESCAP could commission a study to identify the gap in trade digitization processes in SSWA in consultation with national governments. This paper has found that National Trade Facilitation Committees have limited roles or are inactive in SSWA countries. The WTO TFA is yet to come in effect in full-scale in SSWA sub-region. Countries have introduced national single window or Customs EDI system, which have played a striking role in facilitating cross-border trade, but interoperability is still lacking with no regional South Asian single window. During COVID-19, e-commerce has gained the most attention, but cross-country compatibility in e-commerce is lacking, particularly in the SSWA sub-region. While many measures are ad-hoc or temporary in nature, there has been a gap in information sharing, delay in reporting of measures to WTO or WCO, etc. The inter-country coordination was also very sporadic and issues-based.
Such measures may not only add to our strengths, but also fulfil national commitments to the WTO Trade Facilitation Agreement (TFA), thereby upholding multilateralism. At the same time, lessons learned from Coronavirus policy responses should inform future policies on a resilient recovery and sustainable development goals.
AWP 198 Prabir De_0

Prabir De is a professor at the Research and Information System for Developing Countries (RIS).
To download the full report, please click here.